Running Puppy Linux On Your Computer
1. Download Puppy Linux on your computer by clicking here and then clicking on the lupu-520.iso or later link on the webpage. You need this in order to run Puppy Linux on your computer. Please note: The lupu-520.iso may change to lupu-521.iso or higher as Puppy Linux develops. In this article, I will use the lupu-520.iso link although it works the same for a lupu-521.iso link or later.
2. A download Window will pop up. Click the Desktop link on the right of the dialog box to save the file on your desktop (in the picture below, the Desktop link is not shown as I have chosen to hide Folders). Click Save and wait for the file to finish downloading. In Chrome, press Ctrl-J to see all downloads.

3. Once the download has finished, click on this link Ashampoo to download free CD/DVD burning software. Download the software on your Desktop as well. Please note: You can also use any CD/DVD burning software you already have on your computer to create a Puppy Linux CD, but I will use Ashampoo for simplicity all across this article, because it is free and relatively easy to use.
4. Press the Windows key+M and on your Desktop you should see two icons. One for the Puppy Linux operating system you just downloaded and one for the free Ashampoo CD/DVD burning software you downloaded as well.
5. Double click on the Ashampoo link first to start the installation of the CD/DVD burning software. You may have to click Run, select your preferred language and press OK. Click Next on the next window, and "I accept the agreement" on the next window if you accept the License Agreement stated on your computer. On the next screen, make sure you meet the requirements to run the program and then click Next. If you are unsure that you meet the requirements, just know that most computers will if they are not over 10 years old. Click Next on the next window to install the program in it's default location, and then click Next on the next window. Please note: I recommend unchecking the "Create a Quick Launch Icon" but it's up to you. On the next window, you can choose to install the MyAshampoo Toolbar if you want, but I generally don't recommend installing toolbars on your computer because of security concerns and other reasons beyond the scope of this article. Remember also that if you are happy with the product, you can install the toolbar later as well.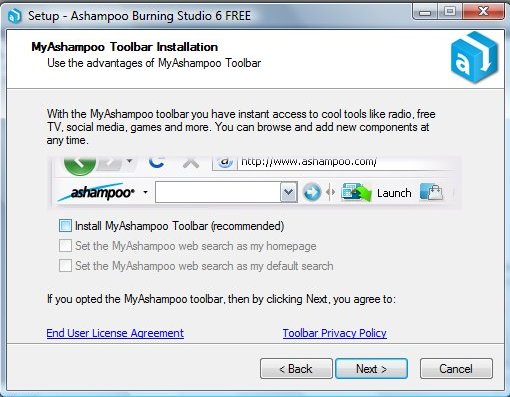 6. Click Next and the program will begin to install. When it has completed, check the box saying "Launch Ashampoo Burning Studio 6 FREE" and click on Finish.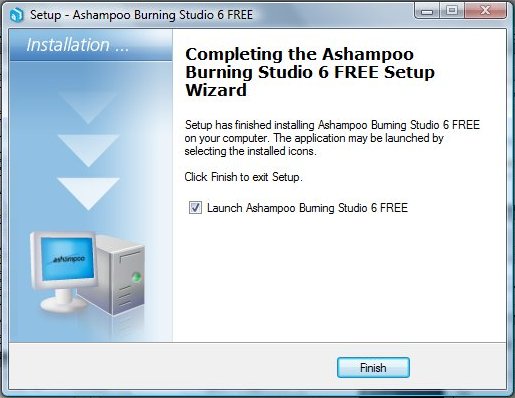 7. The program will probably open an internet browser window inviting you to enter your email address for special offers, support, the latest news on their products, etc. You can enter your email if you want, but make sure that you enter an email that you don't care if it gets spammed (as they may send emails that you may regard as spam). Remember that if you like the product, you can always add your email address to their mailing list later on.
8. The program will also open. Scroll over the "Create/Burn Disc Images" and then click on "Burn a CD/DVD/Blu-ray Disc from a Disc Image." A new window will open in the program. Click on "Browse" and click on the "Desktop" link to view files on your computer's desktop. Select your lupu-520.iso or later file and click on Open.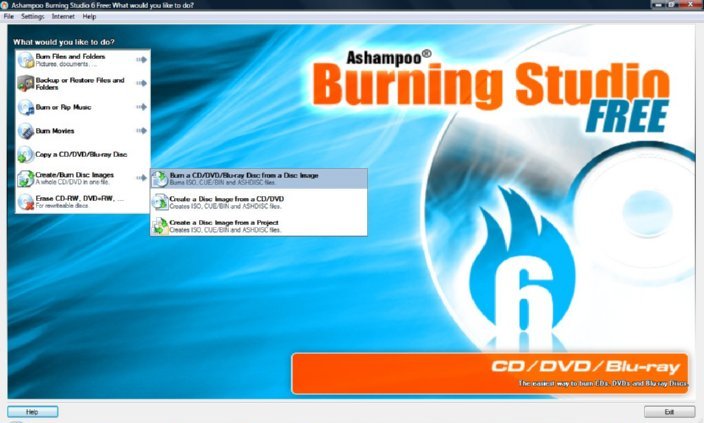 9. Go back to Ashampoo to click Next. Enter any type of unused disc into your computer's CD/DVD drive and then wait awhile. Once the disc has loaded and the program has verified that the disc is okay, click "Change Options..." on the bottom right of the window. A dialog box will pop up. Select all of the options and change the write speed to 4x or lower if you are burning the iso onto DVD and 24x or lower if you are burning the iso onto CD to make sure that the disc burns properly (In the image below, it shows just two icons selected with 8x speed for a DVD disc, change this to three icons selected and 4x for a DVD disc). Click OK to close the dialog box and then click on "Write DVD" or "Write CD" disc you inserted into your computer. If you have a laptop, set it on High Performance and plug it into an electricity outlet BEFORE burning the disc. These are good practises to ensure that your disc burns properly.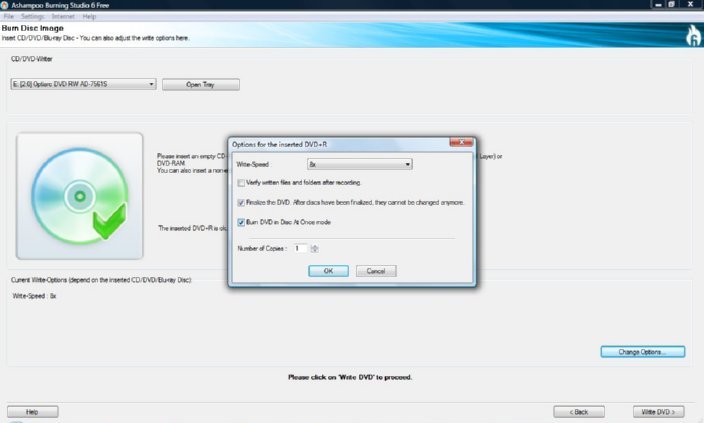 10. After the disc has been burned properly, the computer will verify that the "DVD image recorded and verified successfully!" with a dialog box and the computer will eject the disc for you. However, close the disc compartment of your CD/DVD drive with the newly created Puppy Linux disc inside.
11. Shut down all of your open programs and restart your computer with the disc inside the CD/DVD drive. The disc will automatically start up Puppy Linux, and wait 5 seconds for normal startup. Puppy Linux will begin to load.
Please note: This is assuming that your BIOS is set to boot up CD's or DVD's first before the hard drive. If Windows still loads up, you will have to go into your computer's BIOS to set your CD/DVD drive as the first startup device (article coming soon). Also, you can boot up Puppy Linux from a USB drive but that's a little more complicated. Most linux "distros" or versions of the Linux operating system can be booted up from CD/DVD or USB device. Also, when running Puppy Linux on your computer, please don't be shocked by the apparent DOS-like appearance of Puppy Linux when it is booting up. It will not harm your computer. However, NEVER interrupt the startup or shutdown processes of Puppy Linux or any versions of Linux as this may mess up your computer. This includes pressing keys and turning your computer off. Also, please note that running applications in Puppy Linux only requires ONE click, there is no double-clicking. When you are done using Puppy Linux, simply select shutdown in the Linux taskbar and you may save your work if desired. The computer will shutdown automatically. When it restarts, you can remove the Puppy Linux CD to run Windows or you can keep it in your CD/DVD drive to run Linux again. Nothing is done to your computer if you choose not to run Puppy Linux again, as it ran from RAM when you booted it off a CD/DVD.
If you like Puppy Linux and begin to use it a lot, you will soon discover that it is a powerful and interesting operating system that challenges the likes of Microsoft. You can also use your Puppy Linux CD in problematic situations, such as if your hard drive is having problems or if your Windows installation has crashed.
Thanks for reading my article on Running Puppy Linux On Your Computer.